Over the last three weeks of business we have had several of Ireland's TOP bloggers onboard Peggy Joy to experience Massage on a Barge, and review our massage barge. 
Like any new business we have been VERY focused on our online content.
We are finding our feet and our personal identity, sharing the latest news from Massage on a Barge, our latest offers like 20% off for Dublin Pride, the local barging community, the Grand Canal area and the benefits of Thai massage.
Massage on a Barge has been so grateful to the blogging community for their support and brining our brand new irish owned business to peoples attention.
What matters the most is the overall reviews have been INCREDIBLE.
One of our favourite pieces by Travel & Lifestlye Blogger Stephanie Buckley calls us
'Dublins Quirkiest Place for a Full Body Massage' 
Read the full piece here on Eatsleepchic.ie
Dublin's Quirkiest Place for a Full Body Massage – A Floating Barge
Some other big faces in the world of blogging have visited us for luxurious massage
Janet Newenham from Journalistontherun.com
Rory Carrick from eatdrinkrunfun.com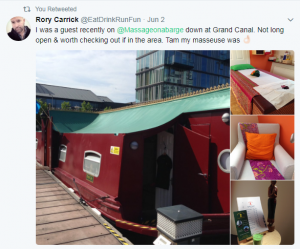 Where's Clair at wheresclair.com
Siobhan O'Hagan from ohfitness.ie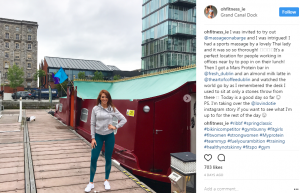 Mei Ling from darlingbudsofmei.com
We want to thank the online community for supporting our new business !
Take their word about Massage on a Barge from Ireland's top Bloggers and book your appointment now.
We are Ireland's MOST unique massage experience but we also do AMAZING quality massage.
Dont forget to follow us online below
Instagram  https://www.instagram.com/massageonabarge/
Facebook  https://www.facebook.com/Massageonabarge/
Twitter  https://twitter.com/massageonabarge?lang=en